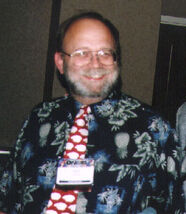 Frank Chadwick is one of the founders of Game Designers' Workshop and was one of the original organisers of the Game Manufacturers Association (GAMA) and served as president of both for a number of years. Frank has more than 90 published games to his credit (just two examples being Command Decision, and Space: 1889), and his best-selling Desert Shield Fact Book (1991) reached number one on the New York bestseller list and has received over thirty awards for excellence in game design. He is a regular presenter at the Origins War College, has appeared on CNN as a military commentator, and despite persistent rumours has never been a consultant to the defence industry. Frank was inducted into the Adventure Gaming Hall of Fame in 1989, and is a member and former adjutant of the HMGS Legion of Honor, and awarded the HMGS Jack Scruby Award for excellence in the historical miniatures gaming hobby. He designed Traveller 2300/2300AD with Marc Miller and Lester Smith.
Books by this Author
Alphabetical List

Bold text
Articles
[
]
Challenge
Challenge No. 34: Ogre 2300, with Lester Smith.